Back
11.05.2022
New dictionary for the students of the Educational Complex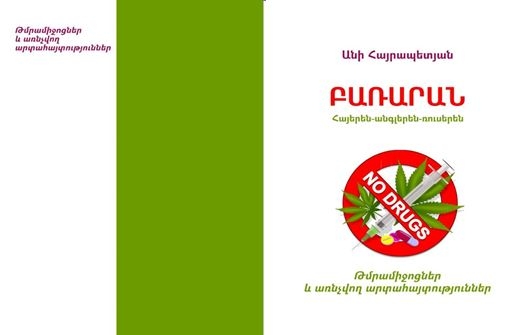 Armenian-Russian-English dictionary on "Drugs and related phrases" by the Head of the Chair of Languages of the College of the Educational Complex of Police of RA was published. It is intended for the law enforcement and Police officers of Police of the Republic of Artsakh and RA. It can be used also by the students of the Educational Complex, who has been recently engaged in the field.
Words and phrases that are used much in practice within the field of drug trafficking in RA, are introduced in the dictionary.
Such kind of English equivalents are accompanied by transcripts, which will make easier to pronounce the words by non-carriers of the language.
The dictionary is fulfilled by color pictures of the most spread drugs, thanks to which a new specialist will be acquainted with the given plants' drugs. Taking into account that drug illegal trafficking is quite serious dangerous not only for the person but also for the whole society and state security, as well as cause catastrophic damages to the economy and nation's genealogy, an active events are implemented by law enforcement agencies of Armenia and Artsakh in countering drag trafficking, and the dictionary is a small input into that mission.