Back
18.01.2023
Crime scene investigation training by virtual reality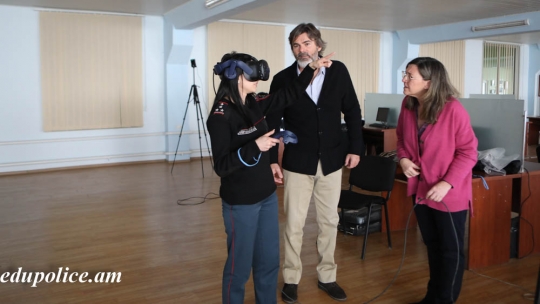 The virtual reality has been involved into 21st century Human lifestyle. With UNDP support the Educational Complex gives opportunity the students to be integral part of modern virtual training methodologies. One of the virtual projects is to promote the development of educational projects and investment of new digital technologies into educational process.
On the 17th of January police security and public management project coordinator of UNDP David Harutyunyan and representatives of the Spanish company "Seabery" Marta Toronio and Bazilio Guillermo Garcia conducted the event. Goal of the visit was to introduce to the staff of the Educational Complex about virtual reality project on crime scene investigation.
With the leadership of the Head of the Educational Complex, police colonel Manuk Muradyan, co-workers of Police Academy, Training Center and International cooperation and IT division attended the event.
Participants were acquainted with the peculiarities of the training on Crime scene investigation by conducting virtual reality project, its positive outcomes for educational process. The attendees had opportunities to experience the given item and imagine the ways of its usage. A lot of questions were given on the issue with its appropriate answers.
After the training, a meeting was held in the office of the Head of the Educational Complex, sharing mutual ideas on the issue. Particularly, Head of the Educational Complex emphasized the necessity of fulfilling educational activities with such projects as it gives the best opportunity to arrange practice, keeping time and financial capacities.