Back
30.06.2021
Glorifying event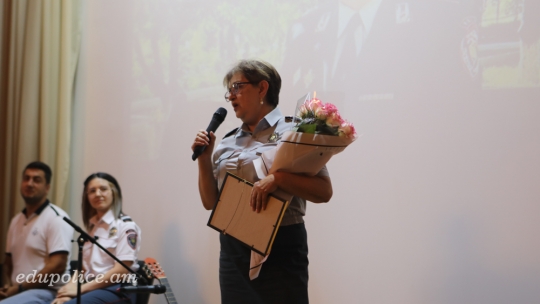 On the 25th of June, 2021 there was held glorifying event at the Club of Police Educational Complex, dedicated to the long-term impeccable work activity of the associate professor of the Chair of Languages, police colonel, honored pedagogue Roza Levon Musayelyan. The event was a surprise for the lecturer, which excited her much. It was specific lesson about how to live, to be devoted, to work and never talk louder about.
The stage became as an audience and learners presented all the values that the beloved lecturer transferred them and to previous generations during her career.
They promised that would be devoted to that values and would turn them to life guide.
Students of the honorable lecturer recited the quotes and poems of R. Musayelyan. The lesson was conducted by two beautiful movies about the pedagogue, where students, colleagues characterized her by one word. The glorifying event was continued with folk dances and other musical performances.
At the end of event the learners mentioned that the lesson was very instructive, motivational for present and future generations.
At the end Head of the Police Educational Complex of RA expressed his gratitude to R. Musayelyan related to her working activity. He qualified highly devotion and work of the honored pedagogue and handed her a grateful certificate.
R. Musyelyan thanked for the surprise and mentioned that it made her responsible put more effort and strength to make future activity more interesting and fruitful.