Back
27.01.2023
Meeting session of the Scientific Council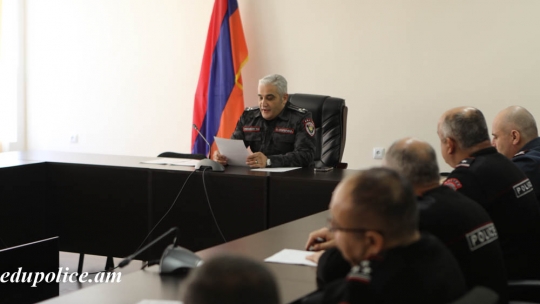 On the 24th of January there was held the first meeting session of the Scientific council of the Educational Complex of Police of RA. As a result of agenda discussion, the scientific council decided to provide one time premium for educational workload of administrative staff of the Educational Complex of Police of RA during the first semester of the academic year 2022-2023, based on class workload of the administrative staff.
The amendment was done in the regulation on assessment of students' knowledge, skills and capacities, and as a result the final and ongoing assessment of practical subjects would be realized separately.
At the end of the discussion, the bulletin of scientific articles on "Current issues of Law" was guaranteed for the publication, and 30 articles are presented, among which 6 are authored by Bachelor degree students of the Academy. It was informed to the scientific council and summed up the rating evaluation of professor-lecturing staff's professional activity.